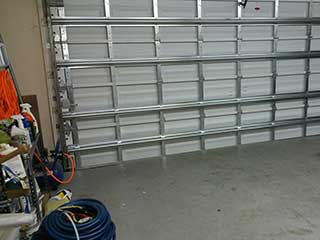 If you'd like to reduce the amount of problem you're automatic garage door suffers from, then the way to do that is to have the system regularly serviced by professionals. Our technicians can ensure that every single part is functioning correctly and efficiently, and that any minor problems are quickly resolved and most major issues are thoroughly avoided.
The Rite Of Spring
The parts that require perhaps the more maintenance than any other component are garage door torsion springs. They need to be lubricated regularly and their tension needs to be tested and adjusted to prevent a scenario where the door becomes unbalanced or uneven. Our experts will apply the right lubricant to their coils and safely perform any required spring adjustment. This will help to alleviate the working strain and reduce the wear and tear these units go through.
Crucial Safety Testing
Your automatic opener needs to be serviced as well, to make sure all of its safety-ensuring features are working correctly. We'll make sure the unit's sensor alignment is correct and that the photoelectric eyes aren't scratched or damaged. We'll also check the force and travel limit as well as the safety reversal feature to ensure the door doesn't hit the floor when it closes and does in fact reverse when something is blocking its way. Additionally, we'll inspect the motor and the circuit board, and replace any component that's about to give out.
Hardware Part Maintenance
There are other segments of your garage door system that need to be inspected as well. The panels can experience a variety of issues, due to the fact that they are constantly exposed to the elements. The tracks can also suffer from various problems, as they can become bent or rusty, which will hinder the movement of the rollers quite significantly. To prevent this, we'll inspect them, repair any dents we find and even realign them to make sure the door won't get stuck. As for the panels, we will repair or remove any damaged sections and replace them with new ones. This will help preserve the insulating quality of the door as well as its curb appeal.
Schedule An Appointment Online
Instead of waiting for something to go wrong, simply contact our team at Garage Door Repair Pasadena and let our professional technicians make sure your system is fully functional. You can either give us a call or use the scheduling system on our website to book an appointment today.
Count on us for:
New Garage Door Installation
Screw Drive Opener Replacement
Galvanized Torsion Spring Installation
Garage Door Troubleshooting Services