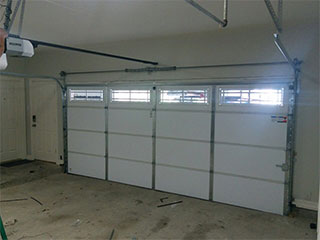 Your opener is probably the most complicated part of your entire overhead door system. It consists of a number of electrical and mechanical components, and can develop a number of problems over time following regular use. Our technicians can identify and fix anything from faulty wiring to a fried circuit board. We can also provide you with a new opener if necessary.
Setting Up A New System
New units should always be installed by professional technicians. If it isn't carefully calibrated, or properly secured, this can lead to major problems later on. When our team installs a new opener they always ensure it's securely fastened to the overhead blocking before attaching the rails and trolley. Once the unit is in place, they'll connect and calibrate the safety sensors, set the limit switch, and set up the remote system.
Which Opener Is Right For You?
There are three main varieties of opener system available. Chain drive units use a metal chain and tend to be cheap and reliable, but noisy. Belt drives replace the chain with a tough rubber belt, resulting in quieter operation but sometimes at an increased price. Screw drives require very little in the way of maintenance but they're also rather noisy. Each type of opener will suit different households depending on the layout of the property and family's needs. If you're not sure which one is right for you, just get in touch with our team who can advise you further on the options available to you.
Additional Technology Upgrades
In addition to the drive types available above, there are various technological enhancements on the market today which might be worth considering. Genie and LiftMaster, offer "rolling code" remote systems to make it more difficult for intruders to duplicate your door's signal and Chamberlain's "MyQ" app allows you to open and close your door from the comfort of your car seat with your smartphone. If you're interested in exploring the modern security features that come with openers, we'll be happy to provide you with more information.
Contact Us Today
Whether you need a new opener installed, or your existing unit repaired, our team is here to help you. Contact our specialists at Garage Door Repair Pasadena today to make an appointment.
Need more? We also provide:
Garage Door Safety Inspections
Belt Drive Opener Installation
Extension Spring Adjustment
Garage Door Off Track Repair